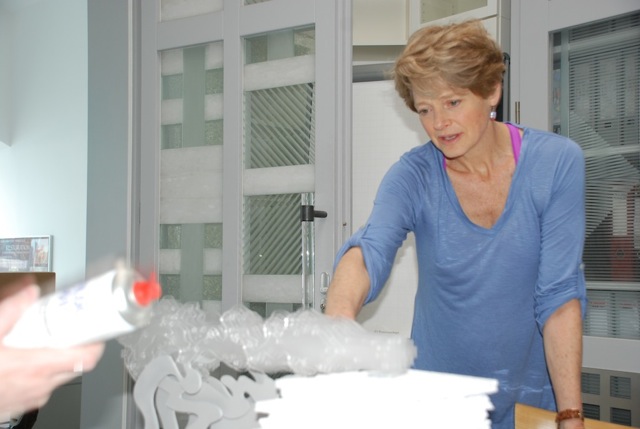 Catherine Widgery's practice of creating site-specific art works for the public realm spans over 40 years. She has built her career around making public art because she is inspired by the richness of new places and meeting the people who will live with the artwork. Her works support multiple levels of meaning and experience. Anyone, child or art curator, will find something compelling to engage their senses, body and mind. She believes that giving her viewers something unexpected or intriguing helps awaken them to their surroundings. She engages them through mystery, ambiguity, changeability, animation and altered but recognizable imagery. The interpretation resides within the participant. Visitors are embraced by her artworks that often exist as shimmering light or movement in a shifting environment. Permeable, dematerialized, appearing and disappearing, her works in the public realm are never the same since it is nature's energies and the viewer's participation that determine the art in any given moment.
Catherine Widgery and her team have created more than 50 site-specific public art projects across the US and Canada. Her particular interest and strength is working with communities and teams to create environmental sculptural experiences that respond to the unique spirit, shape and function of a place. Wind, light, water and computer-controlled lighting programs communicate energy and animate the space within her environmental works. Catherine enlists an experienced team of talented specialists to ensure that every project is produced on time and within budget. She knows the best projects are the result of a lively dialogue between the stakeholders and the design team.
Catherine grew up wandering the forests and creeks around her family's home outside of Pittsburgh and passed huge rivers and roaring steel mills each day on the way to school in town. This mixture of nature with built urban environments shaped her perceptions of the ever-changing balance between the two.
In addition to numerous solo and group exhibitions in galleries and museums, her award winning projects have been featured on the covers of Sculpture, Landscape Architecture, Espace and World Sculpture News magazines.
Some of her most recent awards include the 2018: "BART Warm Springs Station, featuring Widgery Studio's Sky Cycles was honored with the California Transportation Foundation (CTF) Project of the Year award."
2018: CODAawards Merit Award: Best Projects Transportation Sky Cycles
2016: CODAawards Merit Award: Best Projects 2016 Sky Veil
CODAawards Best Projects of 2015 for both Healthcare and Transportation, First Prize (Tidal Song)in the TGK 2012 International Competition and the PAN/Americans for the Arts selection of Cloudbreak outstanding artwork at 2011 conference.
Below is a map showing some of Catherine Widgery's public installations.